60 mins $125
The Gift Signature Facial skin care includes deep cleansing, exfoliation, with steam infusion, extractions, massage of face, neck & shoulders, customized treatment mask, and moisturizing.
75 mins $180
During the allergy season it caused many people to have headache, migraines, sore throat and coughing. Organic Lymphatic facial can help your allergies and sinus congestions. It is a type of holistic therapy that gives your lymphatic system a "clean up". By manually stimulating and increasing the flow of lymphatic fluids, it can reinvigorate your immune system and sweep away harmful toxin.
Benefit: Open sinus, release extra fluid in the head, release stress, and cleanses.
30 mins $105
60 mins $140
A Back Facial is a skin treatment which is formulated specifically for the back. Back facials utilize many of the technique used in skin
treatment for the face, and they are supposed to clarify and soften the skin of the back while providing a deep moisturizing treatment which will leave the client with a healthy, glowing back.
Ultra Hydrating & Vitamin C
$175
3 FOR $495
6 FOR $900
Claritymd Pro-Infusion & Lumixyl Pro-Infusion
$195
3 FOR $555
6 FOR $999
SilkPeel Dermalinfusion is a noninvasive skin care treatment that improves the look and feel of the skin.
It can be used on the face, neck, chest, hands, feet, and other areas of the body. The treatment uses a
series of serums and exfoliation techniques to remove the outermost layer of skin. The result is softer
and younger-looking skin.
60 mins $250
90 mins $320
A client favorite, this exclusive treatment combines firming, lifting, and exfoliating Booster. A noninvasive skin care treatment with hot stones massage on your face, neck and shoulder to rejuvenate your skin.
Signature package
30 mins Dermal Infusion Silkpeel + 30 Mins Back Facial
$255
Classic Package
75 mins Organic Lymphatic Facial + 45 Mins Back Facial
$300
Rejuvenate Package
75 mins Luxury Wellness Silkpeel Facial + 60 Mins Back Facial
$425
What is Evoke?
Evoke is an innovative non-invasive solution designed specifically to target facial tissue. It is a quick and easy non-surgical alternative to remodel your face, neck, and jawline.
Treatments are customized and tailored to address your specific needs so the end result is a naturally younger-looking appearance without downtime.
How does Evoke work?
Evoke leverages clinically proven radiofrequency technology to deliver volumetric heating to the skin's subdermal layers. By directly addressing the jowls and neck, Evoke can help you achieve more defined facial characteristics.
Evoke was created and based on the development and clinical success of the proprietary A.C.E. (Acquire, Control and Extend) technology. A.C.E. technology targets deep within the skin to ensure that no areas are under, or over-treated, thereby maximizing results and providing consistent outcomes.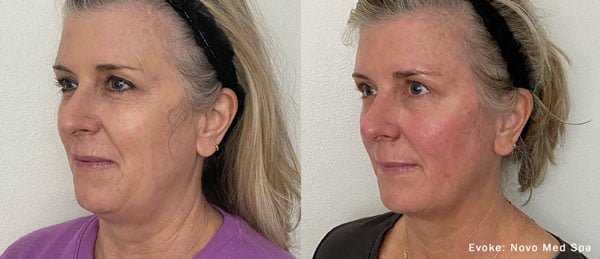 Morpheus8 Microneedling
Microneedling is recognized as an effective regenerative treatment for reducing wrinkles. The treatment is one of the best for restoring a youthful, firm, supple quality to your facial skin. The Morpheus8 microneedling takes this therapeutic treatment to the next level. This groundbreaking microneedling process will significantly reduce the visible signs of facial aging.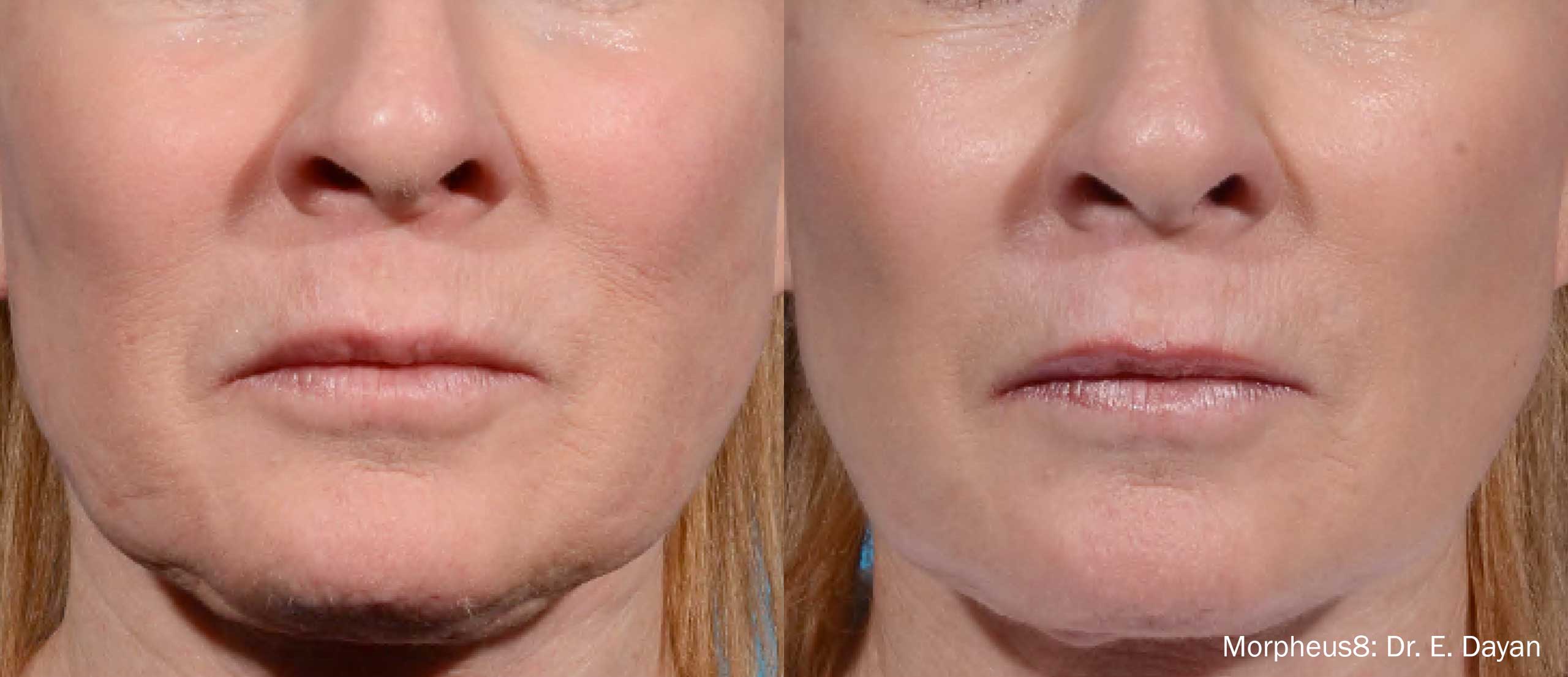 How is Morpheus Microneedling different?
Standard microneedling involves the use of tiny needles to penetrate deep in the skin, stimulating the body to repair existing skin cells and generate fresh new cells. Morpheus8 microneedling combines top-of-the-line microneedling with RF (radiofrequency) technology to penetrate the skin more deeply to restore the supporting tissue. Standard microneedling penetrates one to two millimeters, while the Morpheus8 customizes treatment for each area, going deeper. The tiny needles produce micro-injuries at up to 4 millimeters to trigger healing, while emitting RF energy to stimulate natural regeneration at a deeper level of your skin.
What are the benefits of Morpheus Microneedling?
Morpheus8 microneedling in Ridgefield, CT, can address almost all the common signs of facial aging, and stimulate your skin to become firmer, more evenly toned, and youthful. A non-invasive procedure, Morpheus8 microneedling calls upon your body's natural healing capacity, producing a dramatic improvement in skin quality on any area of the body. Some of the benefits you will experience from this treatment include:
Smoother, more resilient, youthful skin
Reduces the appearance of acne scars
Fades stretch marks
Increases natural collagen production for firmer, healthier skin
Because it is nonsurgical and does not involve the application of any chemicals, Morpheus8 microneedling is often used in combination with other treatments as a part of a comprehensive anti-aging treatment – with spectacular results.
SilkPeel
The SilkPeel® Dermalinfusion skin care procedure is design to improve the appearance of skin with just one or a series of treatments. The procedure takes about 30 minutes, does not cause pain, and does not require any downtime.
How is SilkPeel different to Microdermabrasion?
Similar to microdermabrasion, the SilkPeel® treatment involves the removal of outer layers of skin through exfoliation techniques. However, the SilkPeel® treatment differs from microdermabrasion because it employs use of various treatment serums specially formulated to treat specific skin conditions.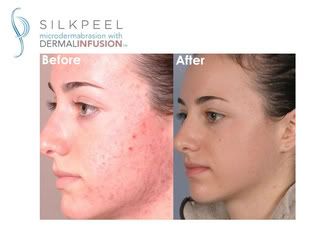 To begin the SilkPeel® procedure, the specialist will clean the face to remove any make-up, dirt, or other debris that has accumulated on the skin. Next, the SilkPeel® hand piece will be applied to the skin and move the along the treatment area.
The SilkPeel® hand piece is specially designed to exfoliate the outer layers of the skin, suction away the dead skin cells, and saturate the skin with the treatment solution. The serum penetrates the outer dermis to reach deeper layers of skin, infusing it with vitamins, minerals, and anti-oxidants, and increasing the effectiveness of treatment.
Venus Viva – The Next Generation of Anti-Aging
Venus Viva provides the most exciting, innovative technology that is not only taking the industry by storm, it's re-defining it…to its own standard of excellence, to its clients' demands.
What Does Venus Viva Treat?
From remodeling and re-surfacing uneven skin tone; to smoothing lines, deep folds and wrinkles; or reducing visible pores, Venus Viva also corrects pigmentation, irregular texture and even those stubborn stretch marks. And there's, still, more.
How Does Venus Viva Work?
With its patented NanoFractional Radio Frequency™, Pulsed Electromagnetic Fields and one-of-a-kind SmartScan™ technology, Venus Viva permeates through several layers of skin to boost the production of your body's own collagen and achieve and maintain a fuller, firmer more youthful appearance. And Venus Viva has the versatility to treat more than just one concern over a larger body area, in a single session.
How Long Will it Take, How Will I Look?
With minimal downtime and minimal discomfort – totally pain-free with a light topical anesthesia – Venus Viva's results are visible, immediately, and long-lasting. Because of its deeper level of penetration, one area may be completed in as few as 15-minutes; longer, of course, if you prefer to do more. Many people schedule 3 – 4 short sessions and return to work or lunch or an evening's entertainment, following each treatment.
Chemical Peels
Targeted Treatments to Reveal Smoother, healthier skin.
Office-based chemical peels are essential for maintaining and restoring skin's health and appearance. Performed by a skincare professional, these exfoliating treatments help resurface the uppermost layer of the skin to reveal new, healthy skin underneath. Chemical peels are available in a variety of formulations and concentrations to target various skin concerns including fine lines and wrinkles, blemishes, enlarged pores, and uneven skin tone.
What are the Benefits of a Chemical Peel?
Chemical peels are non-surgical, non-toxic, and can be combined with other effective anti-aging facial rejuvenation treatments. Everyone person's skin is different, and chemical peels are unique in that they are fully customizable to suit skin type and treat existing flaws. Brown spots become less visible, the appearance of wrinkles and fine lines reduced, and acne scars and other skin texture problems can be dramatically improved.
Smoother, Fresher, Glowing Facial Skin
All chemical peels work to create smoother, more youthful looking skin, without surgery or other invasive treatment. In addition, your newly rejuvenated skin will be more responsive to specialized treatments to help you maintain glowing skin and ward off the signs of aging. This non-surgical procedure is performed in our office using only topical anesthetic for a moderate to deep level chemical peel. We work to ensure your treatment experience is comfortable and discreet.
Chemical Peels: What Can I Expect?
Depending on the depth and intensity of the treatment, a chemical peel can result in brighter, more youthful skin in just a few short days.
A custom chemical peel treat and correct a wide range of skin conditions, including:
Wrinkles
Sun damage
Rough skin texture
Crow's feet
Hyperpigmentation, sun spots
Acne and acne scars
Melasma
Dry skin or oily skin
Treat pre-cancerous skin issues
Using your skin type and desired results as a guide, our specialists at The Gift MedSpa will work with you to determine the chemical peel best suited for your skin type and the issues that need correction. A chemical peel works by exfoliating your facial skin to improve texture and tone, resulting in smoother, brighter, clearer skin. The face is the most common treatment zone, but the hands and neck can also be restored to a more youthful, fresh appearance with a chemical peel.
SkinCeuticals
SkinCeuticals products are backed by scientific research and have the three essential elements for healthy skin care: correction, protection and prevention. Whatever your skin type, skin problem or skin protection needs, SkinCeuticals provides quality products to keep you looking young and beautiful.
Correct
SkinCeuticals has a special line of products to help correct, exfoliate and rehabilitate skin that has already been damaged by the sun and environment. These products are especially formulated for sensitive areas of the face such as the eyes and lips.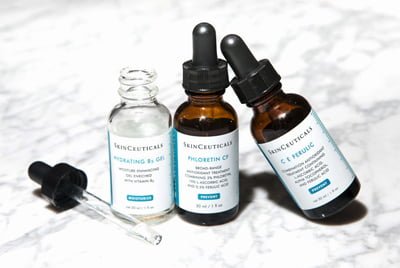 Protect
Care for your skin with SkinCeuticals' protective line of skin care products. UVA/UVB protection is available to keep you safe from the sun's damaging rays.
Prevent
SkinCeuticals helps prevent future skin problems. Age takes its toll on your skin, but SkinCeuticals has a product line with essential antioxidants to keep you looking young.
Cleanse and Tone
These facial cleansers contain rejuvenating ingredients such as hydroxy acids, botanical extracts and purifying agents to restore your skin and leave it soft, smooth and healthy. These products also remove impurities, wash away oils and exfoliate dead skin cells.
Moisturize
SkinCeuticals has a multi-functional line of moisturizers that protect, nourish, hydrate and exfoliate dry skin.
Acne
Fighting acne is made easy with SkinCeuticals' acne care system. The acne fighting line stops breakouts, prevents scarring, cleanses pores, fights the bacteria that cause acne and smooths your complexion.
Body
SkinCeuticals' body products contain special ingredients to exfoliate and moisturize the body, as well as improve skin tone and color.
LUMECCA
Discover a superior solution to improve skin complexion, reduce skin complexion, reduce skin irregularities and look years younger.
What is LUMECCA?
LUMECCA is the most powerful intense pulsed light (IPL) to treat pigmented and vascular lesions. After just one use, patients notice significant improvements in the complexion and clarity of the skin. Lumecca operates using photothermolysis, which provides a photofacial through the delivery of a comfortable light treatment.
What are LUMECCA Benefits?
High efficiency of treatment due to high peak power and optimized output.
Complete photo rejuvenation in 1 or 2 treatments for most patients versus 4-6 treatments with standard IPL's.
Reduces treatment time thanks to large spot size and high pulse repetition rate.
Strong sapphire cooling tip results in higher treatment comfort.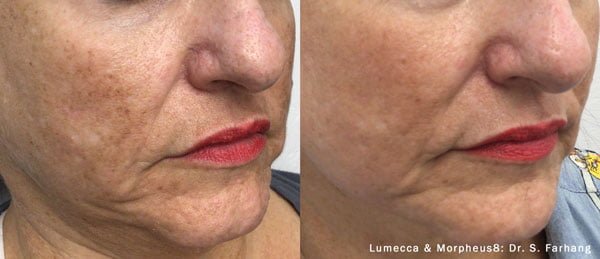 Request an Appointment Today
Request more details on our services or book an appointment with us today